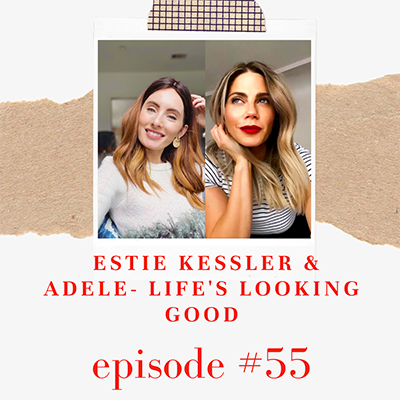 Adele believes that refining our lives in both big and small ways is an affirmation that no matter what.. life's looking good.She does this via her lifestyle platform www.life'slookingood.com  where she helps individuals elevate how they look and how they live.
Estie Kessler is an interior designer and busy mama. Creating beautiful spaces is her passion and Estie believes that the spaces we occupy the most  become the back drop of our lives. Estie recently moved from California to Texas to build her dream home. You can follow her journey on her blog Abode by Estie.
This episode is brought to you by SHMUZY let's connect and converse about design!
You can follow Adele's forum on: Thanksgiving tables here.
You can follow Estie's forum on: Building a home from the ground up here.
You can follow my forum on: Embracing Color and Pattern here.
In this episode, we share all our favorite design tips and tricks. Among the topics discussed:
Art:
-We recommend going larger in size, a 30″x 40″ print can make much more of an impact.
-Play with scale, pair large and bigger sizes in groups.
– Always hang art at eye level which is approximately 57″ from the floor.  –
Some of our favorite resources are: Minted, Juniper Print,  Society 6 Shop and local flea markets.
Mix the high and low:
-Don't be afraid to splurge and save! Every room should have an eclectic mix of both.
– Estie loves Chairish for fabulous vintage finds.  Adele loves her vase from H & M and her daughter's dresser from Ikea. 
Paint: –
-Paint is the easiest thing to change. 
-Make sure you always try a sample on a blank canvas with no color such as a white cardboard.
– Always check your samples in morning, afternoon and evening light. 
Here are a couple colors to try:
Dove White by Benjamin Moore
Balboa Mist by Benjamin Moore
Skimming Stone by Farrow & Ball
Dance of the Goddesses by Valspar
Wevet by Farrow & Ball
Dead Salmon by Farrow & Ball
White Opulence by Benjamin Moore
Backdrop by Modern Love
Click here to see a picture of Estie's mouldings.
Click here to see Adele's butcher block.
Favorites:
Quotes:
Adele: " Busyness is what you give your time to and purpose is what you give your heart to."
Estee: "A reader lives a thousand lives before he dies, the man who never reads lives only one." – George RR Martin
City:
Adele: New York
Estie: Rome
Girl boss or design crush:
Adele: Bri Emery @designlovefest
Estie: Julia Berolzheimer  @juliaberolzheimer