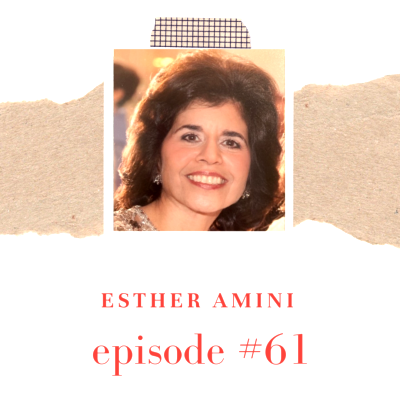 Esther Amini is a writer, painter, and psychoanalytic psychotherapist in private practice. Her short stories have appeared in Elle, Lilith, Tablet, The Jewish Week, Barnard Magazine, Washburn University's Inscape Literary Journal, and Proximity. She was named one of Aspen Words' two best emerging memoirists and awarded its Emerging Writer Fellowship in 2016 based on her memoir entitled: "Concealed" and was chosen by JWT as their Artist-in-Residence in 2019. Her pieces have been performed by Jewish Women's Theatre in Los Angeles and in Manhattan.
Esther Amini lives in New York City with her husband.
Concealed is her debut memoir.
In this episode, we chat about Esther's book Concealed. In her beautifully crafted memoir, Esther describes her colorful childhood growing up in Queens, NY as the daughter of  Persian parents who fled Mashhad, Iran.  Straddling two completely opposing cultures, Esther and her mother are pulled towards all the glorious freedoms that America has to offer while simultaneously being held back by a father/husband who can't bear to see his daughter/wife stray from Iranian culture. This book will make you laugh and cry and offers a fascinating account of the history of Mashadi Jews.
You can find Esther here.
You can purchase Esther's book here.