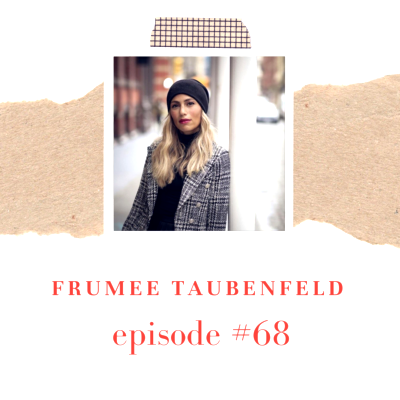 Frumee Taubenfeld is an influencer, fashion blogger and social media personality who thrives on connecting with her followers by showcasing fashion styling and inspiration while doing carpool in between. She's built her following by showing her authentic self, letting people know that what you see is what you get. She lives in Lawrence, NY  with her husband and three beautiful daughters. 
In this episode, we talk about the delicate balance of showing up authentically on social media while maintaining privacy and boundaries. Frumee shares how her style has evolved and how the ever changing landscape of social media has influenced how she shows up and cultivates her tribe.
We  also talk about her favorite books as Frumee is an avid reader.
Some of them include:
Untamed by Glennan Doyle
The Silent Patient by Alex Michaelides
Good Morning Monster by Catherine Gildiner
Where the Crawdads Sing by Delia Owens
A Woman Is No Man by Etaf Rum
Fifty Words for Rain by Asha Lemmie
The Storyteller's Secret by Sejal Badani
 The Push by Ashley Audrain
You can find Frumee here.